Description:
A perennial plant that is treated the same as an annual, green, strongly pungent, rough, lanceolate and slightly sticky leaves with bright yellow or bright orange flowers.
The flowers are daisy-shaped and can measure between 5-7cms across.
H: 30-50cm
Uses:
Companion plant, beneficial plant which attracts 'good' insects, Medicinal / Herbal uses, as an annual for flower colour, in pots, it is edible petals can be used in salads etc, as a dye.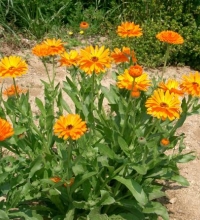 ©http://www.naturallybytrisha.com