Description:
An evergreen New Zealand native tree that forms a dense, bushy canopy.
The leaves are leathery and glossy, elliptic to oblong-obovate in shape and 10-20cm long.
Flowers in spring, followed by fleshy orange fruits, 2-4cm long with poisonous kernals. Fallen fruits have a bad odour.
Karaka tolerates coastal conditions.
H: up to 15m
Uses:
As a specimen, screen, background or tub plant.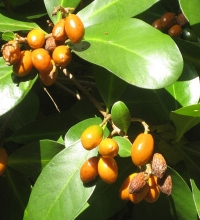 http://en.wikipedia.org/wiki/File:Corynocarpuslaevigatus012.jpg