Description:
An evergreen shrub, most commonly known for its amazing fragrance in winter.
Pale pink, tubular flowers borne in clusters in winter, occasionally followed by red berries.
Leaves are a glossy mid green. Yellowing of the leaves is usually a sign of poor drainage or chlorosis, a symptom of iron deficiency.
Prefers free draining soil, that is mulched and are ideal for shady areas that recieve good light levels.
Plant in an area where the scent can be enjoyed, by windows, doors, walkways etc.
Daphne do not like their roots disturbed and therefore dislike transplanting.
Prune to maintain shape after flowering. Frost hardy.
Ht: up to 1m x 1m
Uses:
Winter fragrance and flowers, asian themed gardens.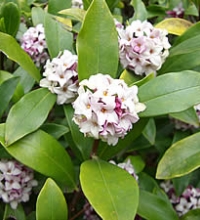 ©http://www.motuekaonline.org.nz