Description:
A New Zealand native, evergreen tree that has a columnar canopy on a tall trunk.
Young branches, midvein and lower surfaces of leaves are covered with rusty brown tomentum.
The rewarewa has unusual flowers in spring, similar to bottle brush racemes that are red brown in colour. Birds and bees are attracted to the nectar produced by the flowers.
Leaves are thick and leathery, lanceolate to linear in shape with a toothed margin.
H: up to 30m (8m in cultivation)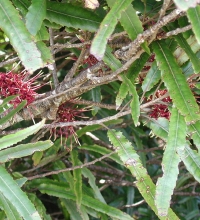 ©http://en.wikipedia.org/wiki/Knightia_excelsa