Description:
An evergreen shrub, with glossy dark green leaves. The leaves are ovate to rounded and opposite in arrangement.
Small creamy white scented flowers in early summer followed by translucent purplish fruit.
Most commonly used as low small hedge, often as an alternative to Buxus species as Lonicera is very fast growing.
Plant 40cm apart for a hedge, and trim around 3 times per year.
Ht: up to 2m
Uses:
Topiary, hedging, formal gardens, background.
Propagation:
By seed or cuttings. Very easy strike rate with cuttings.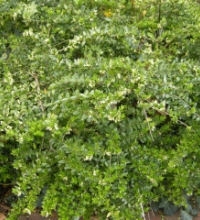 ©http://davisla.wordpress.com