Common Name:
Chatham Island forget me not, Kopakopa
Description:
A NZ native clumping, herbaceous perennial with large glossy prominently veined leaves.
It is a rhizomatous plant with the leaves on long petioles, with a basal arrangement.
Small pale blue flowers in spring, early summer, up to 1.5cm across and in a corymbose cyme arrangement.
Tolerates coastal conditions. Endemic to the Chatham Islands.
H: 40 to 60cm W: up to 1m.
Uses:
Foliage and flower display.
Propagation:
By seed, which can take up to a year to germinate.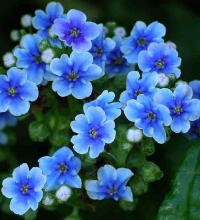 http://en.wikipedia.org/wiki/File:Mysotidium.jpg