Description:
A NZ native evergreen - semi deciduous tree with drooping branches.
Foliage is fern like with 20-40 leaflets per leaf, up to 15cm long and leaflets 5 to 7mm long.
Yellow flowers in spring, up to 4cm long.
Suitable for exposed conditions. Has a juvenile stage of up to 10 years with tangled and wiry branches.
H: up to 10m
Uses:
Flower display, bird attracting.
Propagation:
By seed or cuttings to bypass the juvenile stage.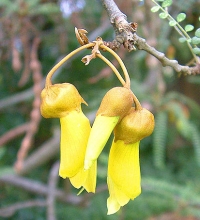 ©http://en.wikipedia.org/wiki/File:Sophora-microphylla-flowers.jpg