Description:
A NZ native evergreen tree with a round spreading canopy. Shiny, compound leaves with three or five leaflets.
Flowers range in colour form pink to dark red, they are 2.5cm long and often flower all year round, most heavily over winter followed by red fruit.
The bark is usually smooth and light brown. Tolerates coastal conditions. Attracts native birds.
H: up to 20m
Uses:
Street tree, specimen, bird attracting, shade tree.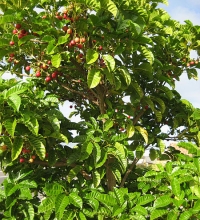 ©http://en.wikipedia.org/wiki/Puriri