Common Name:
Rengarenga lily, Rock lily
Pronunciation:
arth-ro-pod-e-um kir-ha-tum
Description:
NZ Native pernnial herb with fleshy tubers and strap like leaves. Very adaptable to a range of conditions although looks at its best in lightly shaded areas.
Can form large clumps. Small starry white flower are held on airy panicles above the plant, flowering form early to mid summer.
Susceptible to slug and snail damage.
Uses:
Suitable for use as a groundcover under trees and on banks or for mass planting in a border.
Reference:
The gardeners encyclopedia of new zealand native plants by Yvonne Cave & Valda Paddison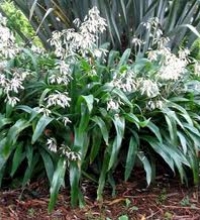 ©http://www.edesignz.co.nz/hosted/MaraReo/TMR-Rengarenga.html