Description:
A New Zealand native evergreen, broadleaf tree common in the central parts of the country. Often a dominant canopy species in lowland forests.
It has willow like aromatic leaves often with a bluish grey underside. The leaf arrangement is alternate to opposite, shape is lanceolate to narrowly elliptic and size 5 to 10cm long, 1 - 1.5cm wide.
Smooth, slender, straight trunk. Inconspicuous flowers in spring, summer followed by large dark purple oval, drupe fruits.
H: up to 30m
Uses:
Timber, papermaking, specimen, background tree.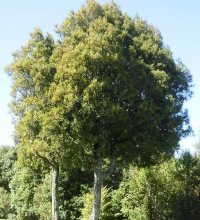 http://en.wikipedia.org/wiki/Beilschmiedia_tawa