Description:
A New Zealand native evergreen shrub or tree. Commonly seen as hedges.
Leaves are bright green, 3-8cm long with an alternate arrangement and oval shape.
Flowers are arranged in a panicle or raceme 3 to 8cm long, seen in spring followed by black, oblong berries.
Ideal in coastal situations or areas with strong winds.
Ht: 9 to 15m
Uses:
As a screen, hedgeing, background, shelter tree or filler.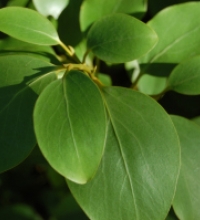 ©http://davisla.wordpress.com