Common Name:
Graceful lacebark, Ribbonwood, Houhere
Description:
An evergreen tree endemic to New Zealand, has a graceful weeping growth habit as the tree matures.
Leaves are glossy green, with serrated margins and are 3-15 cm long and 2-5 cm wide.
Masses of creamy white, scented flowers in mid summer to autumn that are star-shaped flowers and up to 2.5cm across and displayed in 2-5 flowered cymes in the leaf axils.
Developed fruit has wings which are coloured red to pink appear about May.
Attracts bees and butterflies, very fast growing under average conditions. Sextylosa means with six styles.
Ht: up to 8m
Uses:
Specimen, bee attracting, coastal areas, timber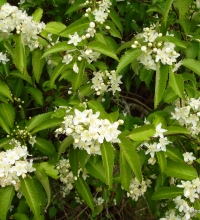 ©http://www.terrain.net.nz/friends-of-te-henui-group/table-1/hoheria-sexstylosa-houhere-lacebark.html