Description:
An evergreen shrub or tree with pale whiteish bark and brittle branchlets.
Leaves are bright green, paler underneath, 5-15cm long, 3-5cm wide, with an alternate arrangment and toothed margin.
Flowers are greenish in colour, in clusters of 2-10 seen in spring.
Tolerates wind. Bird attracting.
H: 6-9m
Uses:
Hedge, shelter, specimen, shade, filler.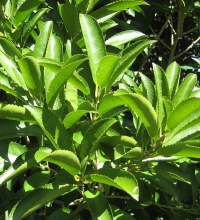 ©http://en.wikipedia.org/wiki/Melicytus_ramiflorus