Description:
A New Zealand native evergreen tree with a rounded head and very large leathery leaves. Has a tropical appearance. Tolerates coastal conditions.
Leaves are 20 to 50 cm long with an oblong to obovate shape.
Flowers in summer with inflorescences up to 50cm long, greenish in colour, followed by 1cm long black fruit.
H: 2.5 to 7.5m
Uses:
Specimen tree, foliage display, tub plant.
Propagation:
By seed or cuttings. Seed needs to be sown soon after gathering.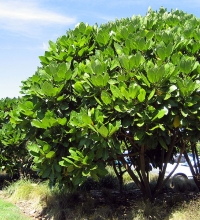 http://en.wikipedia.org/wiki/Meryta_sinclairii