Description:
A fast growing evergreen shrub or small tree native to New Zealand.
Leaves are bright glossy green, dotted with small glands, 4-10cm long, 1-3cm across.
The leaf buds and shoot tips are sticky.
Flowers are white with purplish spots, in clusters of 2-6, seen in spring and summer, followed by a purple oval drupe up to 6mm in size.
Tolerates coastal conditions and poor, dry soils. Can handle heavy trimming to maintain size and shape. Poisonous to livestock.
H: 5-10 m
Uses:
Coastal areas, screen, hedge or shelter.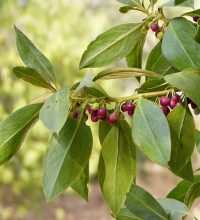 ©http://en.wikipedia.org/wiki/Myoporum_laetum