Common Name:
Mapou, matipo, red matipo
Description:
New Zealand native evergreen tree or shrub with grey bark and reddish brown young branches and leaf petioles. Often mistaken for a Pittosporum species.
Leaves are 3-6cm long light green in colour and with a wavy margin.
The flowers are unisex and occur on bare stems below the leaves in summer.
H: up to 7m
Uses:
Background, hedging, filler.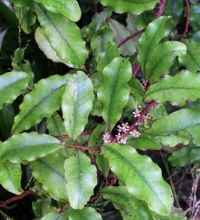 ©http://www.teara.govt.nz/en/shrubs-and-small-trees-of-the-forest/2/6