Description:
A New Zealand native evergreen tree or shrub with an erect and busy shape.
Leaves are 5 to 7.5cm long, green with grey undersides that are covered in white tomentum.
Flowers are fragrant, chocolate brown to crimson with yellow anthers, 1.2cm in size.
Grey seed capsules with shiny black seeds and a sticky substance.
Tolerates wind and coastal conditions.
H: 2 to 9m
Uses:
Hedging, shelter, background, filler.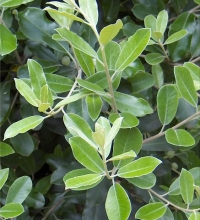 ©http://www.nzplantpics.com