Description:
An evergreen tree native to New Zealand, that has glossy green leaves with a light midrid and wavy margins. When the leaves are crushed emit a slight lemony fragrance.
Flowers are greenish yellow, 1cm across, have a honey scented fragrance and are borne in spring.
When young the tree has a tapering shape but changes to a rounded crown.
H: 6-12m
Uses:
Hedging, shelter, background.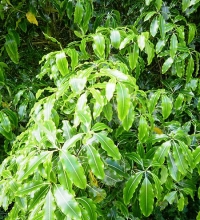 ©http://en.wikipedia.org/wiki/File:Lemonwood_leaves.jpg