Description:
A small evergreen tree native to New Zealand it has very dark red to grey black stems, with pale green leaves, 2.5-6cm long and wavy margins.
Flowers are dark purple to black, bell shaped, produced solitary or in a cluster in spring, with a honey like fragrance.
Seed capsules split open to reveal shiny black seeds.
Tolerates coastal conditions. Can be trimmed.
H: up to 10m (smaller in cultivation)
Order Pittosporum tenuifolium for your garden from Post a Plant
Uses:
Foliage display, cut foliage, shelter, hedge, filler.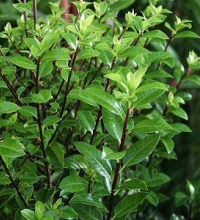 ©http://www.smgrowers.com/products/plants/plantdisplay.asp?plant_id=1287