Description:
A New Zealand native evergreen climber. It has shiny, compound leaves with three to five leaflets of which the terminal one is the largest.
The flowers are tubular or tunnel form, 6-8.5cm long, creamy white flushed with green and flowering in autumn and winter, they emerge directly from the stem in large clusters.
Tolerates coastal conditions. Tropical look to the plant.
up to 9m long.
Uses:
Covering screens and walls, foliage and flower display.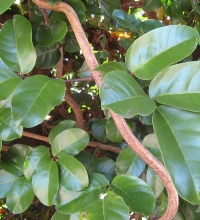 ©http://en.wikipedia.org/wiki/Tecomanthe_speciosa